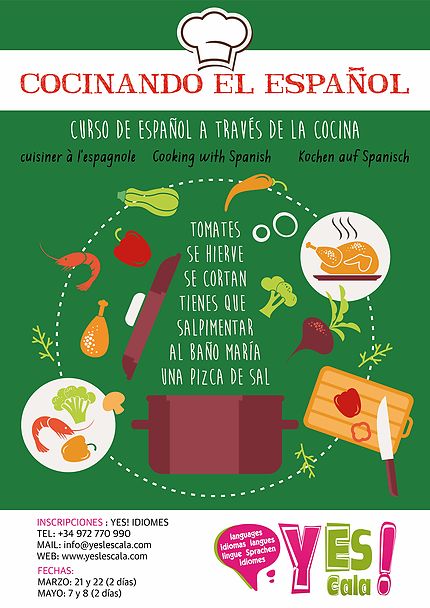 Spanish and cooking
Cooking with Spanish
The Yes! Language School is offering a fusion of cookery and Spanish language course in L'Escala. Under the guidance of one of our own Spanish teachers, who has extensive experience in the catering sector, the student will learn some of the secrets of the kitchen and at the same time broaden their range of vocabulary and structures of the Spanish language.

This course is open to both foodies and those who have no cooking experience but would like to learn. The only requirement is an enthusiasm to learn and have fun.

We have prepared a very practical course, one in which the participants will interact with the teacher/chef at all times. A starter, main course and dessert will be presented at each session, which will be tasted at lunchtime. Afterwards, the vocabulary and grammatical structures that are revealed during the course will be revised.

The timetable is from 10 am to 4 pm and the premises we have chosen for the course is the MARAM (Centre of Interpretation of Fish), in the port of L'Escala. A special course in a special environment.
Dates. 20th and 21st March
7th and 8th May

* If there is enough interest, the course can also be organised in Catalan.