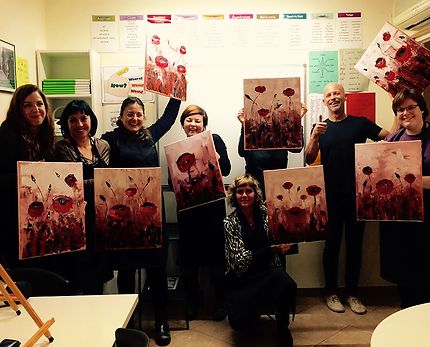 The end of 2016
We had intense days in Yes! language school of L'Escala.
Mannequin challenge. This year fashion arrived in the Costa Brava. Students and teachers of the Yes! academy remained still while they were playing, talking, writing or working when the video camera went around the school.
Art & Wine. We had the privilege to be Bruce and Alisa, who have been students of the school, first "guinea pigs" for their new idea of Art & Wine, a new adventure that brings them to Barcelona with the first Artbar in Spain. This night the improvised artists painted a picture while drinking a glass of wine, following the directions of Bruce Anderson, who was an art teacher in Los Angeles (California).
Study trip to England. The Yes! school together with the British Summer company is preparing a study trip to England for students from 10 to 17 years old, accompanied by a teacher. The meeting took place last Monday 19th of December, with a lot of interest from the parents. The trip is planned for the first three weeks of July.
Christmas. Gifts for the students, new calendars that were drawn by Ester Verdaguer (who has been a teacher in our school) and Santa Claus visited the smaller kids, who remained breathless. Days of emotion.
In this way we say goodbye to the 2016 year, with the desire to have more experiences in 2017.
Happy Holidays to everyone!